Cemetery
Rodington Parish Council manages Rodington Cemetery which can be located adjacent to Rodington Village Hall, SY4 4QS. This is an independent burial ground which is solely managed by Rodington Parish Council.
The cemetery is thought to date back to the early 17th century. The current regeneration of the cemetery, which includes a new vehicular access, water tank, tree planting scheme and landscaped observing areas won the Snell Award in 2019.
For general enquiries about the site please contact the Cemetery Warden on 01952 770629.
If you have any enquiries about purchasing plots or installing headstones please contact the Burial Officer. You may contact via email: rodingtonpc@gmail.com or phone 07948 324 085 (Between Mon to Fri - 9:30 to 2:30) you may also text any time to request a call back.
All necessary forms and fees for purchases, interments and erections of memorial stones are listed below.
All completed forms should be emailed to: rodingtonpc@gmail.com or posted to: C/O The Clerk, 88 Brands Farm Way, Randlay, Telford, Shropshire, TF3 2JQ
NOTICE: It is illegal under the terms set out in the Parish Councils and Burial Authorities (Miscellaneous provisions) Act 1970 for any services to be conducted on this land without the permission of the land managers (the parish council). Any services conducted without proper written permission from the Burial Officer may result in fines being applied for the purposes of legal action taken to the Secretary of Sate.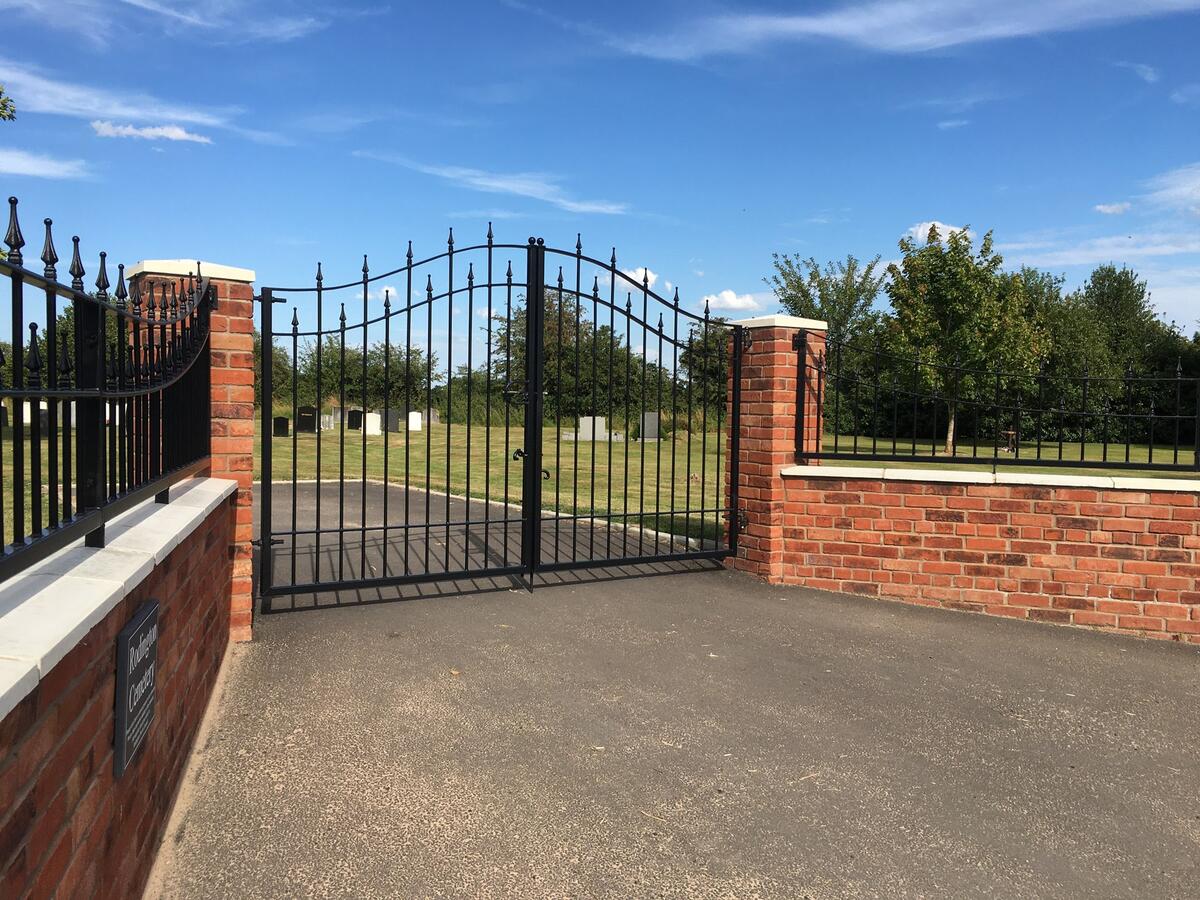 Downloadable Application Forms
| Exclusive Rights of Burial | Notice of Interment | Memorial Application |
| --- | --- | --- |
| | | |
Cemetery Fees for Information as of 1st April 2018
| Exclusive Rights of Burial (99 years) and Interment | Parishioner* | Non-Parishioner |
| --- | --- | --- |
| Burial Single Plot ** | £325 | £830 |
| Plot for Cremated remains | £125 | £470 |
| Children under 16 Burial Plot | No Charge | N/A |
| Children under 16 Cremated remains | No Charge | N/A |
| Stillborn | No Charge | N/A |
| Interment Administration fee | £125 | £150 |
| Memorial Admin Approval Fee | £125 | £185 |
| Cremation plaque Admin Fee Approval | £75 | £125 |
| Admin fee for Additional Inscriptions | £50 | £50 |
* The right to Interment and purchase of Burial rights is exclusive to the residents of Rodington Parish except:
1. Where Burial rights were purchased before the deceased moved outside the Parish.
2. Where the deceased at the time of Burial owns or has a tenancy of a domestic property in the Parish.
3. Where immediately before moving to a nursing home or residential care or designated retirement accommodation, the deceased lived in the Parish.
4. Where the deceased has at the time of purchase rights or at the time of burial a spouse, parent, grandparent, brother or sister or child already interred in the cemetery or who already owns Exclusive Rights of Burial.
5. Exclusive Rights of Burial purchased prior 3rd September 2015 are protected by condition 1 and unaffected by the remaining conditions above.
** Ground at this Cemetery is not suitable for Double Burial in a single plot.
NOTE. All Admin fees apply to all Burials or Cremation Interments